by Wenxian Zhang, Head of Archives and Special Collections
Senior class photo, 1951
Fred McFeely Rogers '51 '74H, everyone's favorite neighbor and the creator and host of the children's television program Mister Rogers' Neighborhood, is one of Rollins' most beloved alumni. Underneath his smiling photo, the 1951 Tomokan yearbook also listed student information in detail:
ALPHA PHI LAMBDA, President
Race Relations Committee, Chairman
Canadian French Scholarship Award
Theatre productions: "Aiglon," "Up 'n' Atom," "Madwoman of Chaillot," "L'Avare."[1]
In 1948, 20-year-old Fred Rogers came to Rollins as a transfer student. Attracted by the strong music program of the College, he not only fell in love with the brilliant Florida sunshine, but also met Joanne Byrd Rogers '50 '05H, a Jacksonville native and his future wife and lifetime partner. Years later Joanne recalled Fred's arrival in The World According to Mister Rogers. As part of the student welcome group, Joanne went to the airport to pick up the "new kid" and show him around campus. "After the tour, we took him to see the music rooms, where we spent many hours of our college lives, and he immediately sat down at the piano. We loved his playing. Few of our small group could play the jazz and popular songs of our day with so much ease and grace. And he could play the classics, too. This 'new kid' really had talent!"[2]
As a member of the Key Society (Rollins honor society; by invitation only, based on scholastic achievement) and Pi Kappa Lambda (American honor society for undergraduate students, graduate students, and professors of music), Fred Rogers excelled academically and graduated with Distinction with a degree in music composition three years later. During the 1951 commencement, he received an award for composition and the General Charles McCormick Reeve Award for scholarship,[3] which was given annually to seniors who maintained the highest scholastic record during their last three years at Rollins.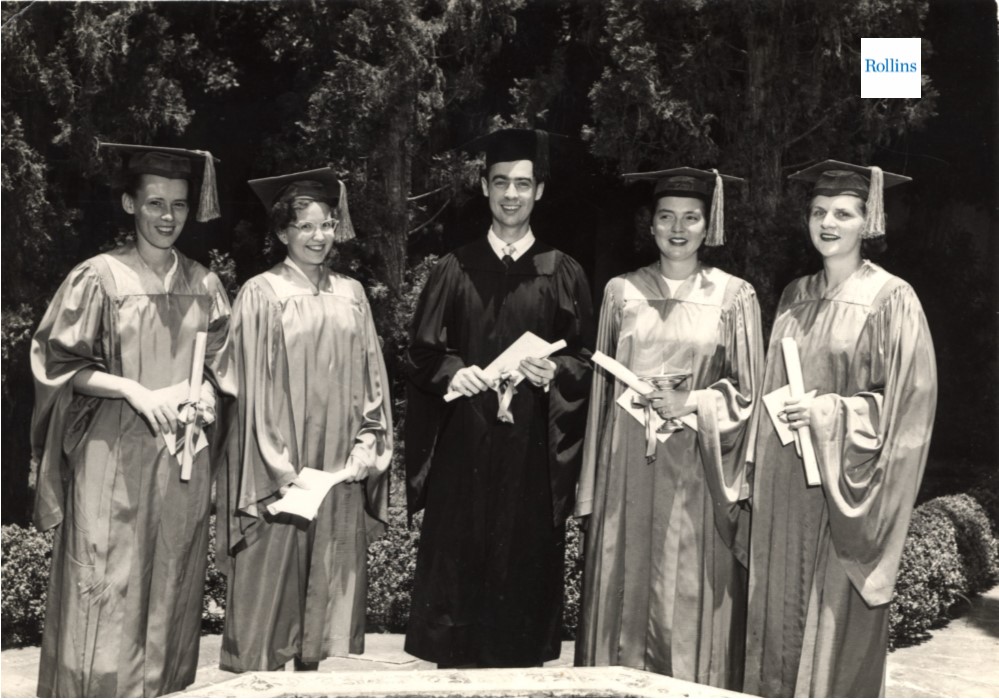 Fred Rogers at the 1951 Commencement, along with (from left to right) Marjorie Norris (Award in History), Maud Trismen (Award in History), Ann Lewis Turley (the Phi Beta Economics prize and the Order of the Libra Cup), and Mariel Riddle (Award in English).
In Winter Park, Fred not only proved himself a gifted and serious student in music, but also acquired and practiced his skills in performing arts. On January 29, 1949, he and Joanne won the Lambda Chi costume contest dressed as Raggedy Ann and Andy.[4] In the following year, he was recognized as the sensational "Mystery Man" of the Independent Men's Open House.[5] He also appeared in several productions at the Annie Russell Theatre, where he once shared the stage with another well-known classmate, actor Anthony Perkins '54 '82H. According to the play review of The Madwoman of Chaillot by the campus student newspaper, The Sandspur, "Anthony Perkins gave a smooth performance as the First Prospector, and appeared to have himself and his lines well under control all the time. Fred Rogers added a successful comic touch, although he lacked projection."[6]
In addition to his activities in expressive arts that included the Bach Choir, Chapel Choir, and the Student Music Guild, Fred Rogers had a busy life on campus. He served as president of Alpha Phi Lambda, a new local fraternity organization that "hopes to develop in her members self-respect and courage of conviction which they may be proud to carry forth into later life."[7] In addition, he was the president of the French Club and a member of the students' Welcoming Committee, and he actively participated in intramural swimming while living on campus. According to Joanne Rogers, "He was a lot of fun and became quite popular, and after a year or so he fulfilled the leadership potential that would follow him the rest of his life."[8]
A recognized student leader at Rollins, Fred Rogers' work as chair of the Rollins Inter-Faith and Race Relations Committee merits special mention. Established during the Holt administration, this was a student organization that "cooperates with the local Interracial Relations Committee in practical projects, studies and discusses the many race problems, and participates in state and national conferences."[9] His four-page, handwritten report documented the group's activities in 1950-51, which included collecting and sorting books for the Eatonville community, raising funds for the future DePugh Nursing Home for African Americans, working with a local electric company to have fluorescent lighting installed at the Hannibal Square Library in the west side of Winter Park, wrapping Christmas presents for needy families, attending a cultural program at Bethune-Cookman College in Daytona Beach, and organizing Race Relations Sunday at the Annie Russell Theatre on February 11, 1951–the seventh annual inter-faith event, which featured the Hungerford School Choir and "a stirring address" by Rabbi Morris Lazaron.[10] The Committee also hosted a Thanksgiving party with ice cream and cakes for 96 African American children at the local nursery and kindergarten, who in return chanted "turkey and pumpkins songs" for Rollins students. Fred Rogers was deeply moved by this personal experience, noting, "They gave us a lot more than they ever dreamed of giving."[11]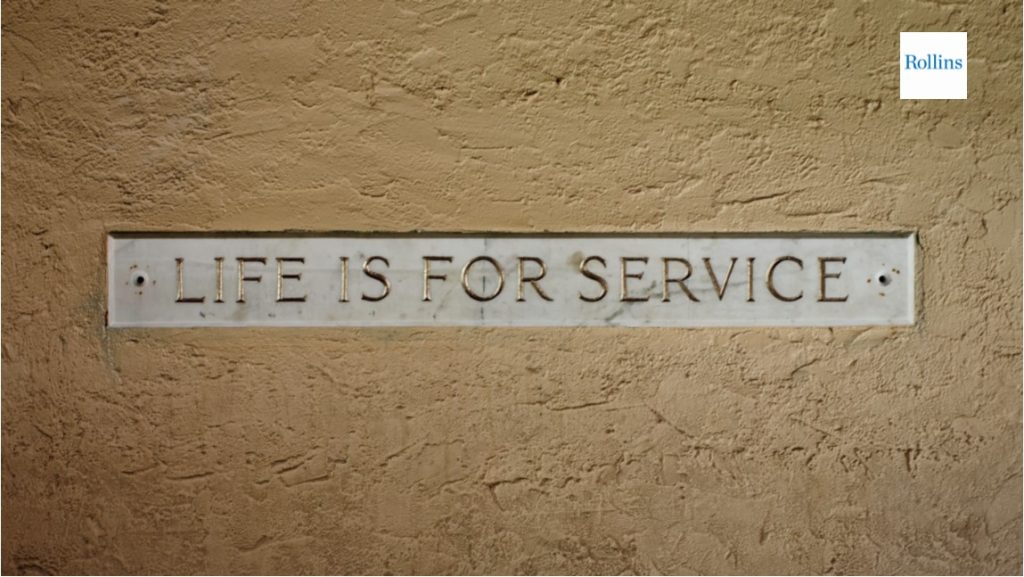 The campus plaque that became a source of inspiration to Fred Rogers
Mounted since the 1930s, visitors to campus today may still see two marble plaques along the covered walkway on both sides of Mills Lawn: MANNERS MAKETH MAN and LIFE IS FOR SERVICE. The first carving is by the entrance to Lyman Hall, Fred's dormitory while living on campus. The second inscription was one of the inspirations that greatly influenced his life and career decisions, as he later carried the laminated quote in his wallet.[12] In 1968, when Mister Rogers' Neighborhood had just begun broadcasting on National Educational Television, Fred Rogers wrote a feature essay for the Rollins Alumni Record. While reminiscing about his student years, he stated, "Everything I ever learned at Rollins has helped me in my work… So many of my particular 'neighborhood' at Rollins helped me to see more clearly than ever that education is a process. One learns from within not as something is superimposed from without. It takes a long time to grow. I'm glad that there are still some schools which allow their students ample opportunities for developing their own unique identities."[13]
In the same article, Fred Rogers wrote, "I try, through our 'Neighborhood' programs to create an atmosphere in which children can grow: a non-didactic atmosphere in which trust prevails and whatever is presented can be accepted or rejected without fear of being ostracized. We sing 'I Like You As You Are' and we mean just that. But to be able to really like someone as he is, a person must know with what that other person is struggling."[14] Accompanying the essay, the magazine editor observed: "Alumnus Fred Rogers says he 'came out' of himself during his years at Rollins College. At Rollins, Rogers began receiving the kind of acceptance which, today, he offers to children."[15]
After graduation, Fred Rogers maintained close contacts with Rollins, frequently returning to campus and spending time in Winter Park. For his outstanding professional achievements in television broadcasting and children's education, he was honored by the College as Alumnus of the Year in 1970: "The Alumni of Rollins College express their sincere gratitude to Fred McFeely Rogers '51 for his contribution to the education and communications media by creating the excitement of learning among the children of 'Misterogers' Neighborhood,' as well as bringing great honor to his Alma Mater. We salute him as Alumnus of the Year."[16] On Sunday, March 26, 1974, Fred Rogers was awarded an honorary doctor degree by his alma mater. The citation reads: "Known to millions of children as Mister Rogers, everyone knows that you have had an interesting career after graduating from Rollins College in 1951. What most people might not realize is that you were an extremely active student at Rollins College, not only in music and the chapel, but in intramural swimming and dramatics… We like to think that a major factor in your success is that you are married to a Rollins graduate, Joanne Byrd Rogers. We are delighted to welcome you to our neighborhood today… Fred Rogers, well-known alumnus of Rollins College, we are proud to claim you as our graduate. You have exemplified the rare quality among men of knowing precisely what you want to do as a vocation and then enjoying it fully. Your devotion to high Christian ideals makes it appropriate that we bestow upon you the honorary degree of Doctor of Humane Letters. Congratulations!"[17]
Accompanied by President Rita Bornstein, Fred Rogers lays his stone in the College's Walk of Fame
A celebrated cultural attraction in Winter Park, Rollins' Walk of Fame is a semi-circular pathway around Mills Lawn, lined with stones. The tradition was started in 1929 by Hamilton Holt, eighth president of the College, to honor notable men and women in human history. During the 1991 alumni reunion weekend, 40 years after his graduation, Fred Rogers was scheduled to lay his stone in the Walk. The inscription reads: "Fred McFeely Rogers; 1951; Mister Rogers' Neighborhood." When the announcement was made in local media, it generated great excitement among community members in Central Florida. On Friday, March 8, President Rita Bornstein led the public ceremony with hundreds of children and their parents crowded around the center of campus, just outside Lyman Hall, his old dormitory at Rollins. According to the Orlando Sentinel, "As a mob of adoring fans strained to get near him, Fred Rogers stopped to kneel before a little boy holding up two slightly wilted red roses. In return for the flowers, the awe-struck youngster got a hug and a pat on the back from one of the most beloved stars in the history of children's television."[18] Afterwards, Fred Rogers visited the Child Development Center and chatted with faculty, students and young children there. While fielding questions from Rollins students, he remarked, "I think that whatever profession we choose, the most important thing we can develop along the way is listening. I have such strange feelings about fame, the only thing that matters is relationships."[19]
Mister Rogers visiting the Rollins College Child Development Center
On March 25, 2001, fifty years after his graduation, Fred Rogers was awarded the Algernon Sydney Sullivan Citizen Award by his alma mater. As an ordained Presbyterian minister, he also preached at the Chapel service that Alumni Weekend, during which he recalled how he first became intrigued by the educational potential of television in his senior year at Rollins. "Well, I got to see television for the first time during that spring break of 1951, and what I saw influenced the rest of my professional life. I saw people throwing pies in each other's faces. Seems like a small thing, but before seeing that, I was all set to go to seminary right after Rollins graduation. After seeing those pies in the faces, I decided to get a job in television!"[20] Reflecting upon his life journey, Rogers remarked in his soft-spoken voice, "And you know why, because deep down we know that what matters in this life is much more than winning for ourselves. What really matters is helping others win, too, even if it means slowing down and changing our course now and then."[21]
Before a packed audience in the Knowles Memorial Chapel, Rogers also declared his personal affection for teachers. "Where would any of us be without teachers – without people who've had a passion for their art or their science or their craft and they've loved it right in front of us? What would any of us have done without teachers passing on to us what they knew was essential about life? Who has been an inspiration to you in your life?"[22] Finally, in this, his last public speech at Rollins, titled "Neighbors in the Wings," Rogers shared his simple yet profound philosophy in life with members of the Rollins academic community: "Who has loved you into being? Let's just take a minute of silence in this Rollins sanctuary to think about those who have trusted us and guided us and made such a difference in our becoming. Whomever you've been thinking about – whether they're here today or far away or even in heaven – imagine how grateful they must be to know that you recognize how important they are to you… And all we're ever asked to do in this life is to treat our neighbor – love our neighbor – exactly as we would hope to be loved ourselves. That's our only ultimate responsibility."[23]
Dean of the Chapel Patrick Powers, Fred Rogers, and former Chapel Dean Arnold Wettstein after Mr. Rogers' sermon at the 2001 Alumni Chapel Service
Although our most beloved neighbor passed away in 2003, his legacy remains strong at Rollins. As Rollins President Grant Cornwell recently stated, "His messages of self-esteem, inclusiveness, and respect still resonate clearly in our community engagement endeavors and beyond."[24] Rollins is proud to be part of Fred Rogers' neighborhood. From the campus sweater drives and book drives to academic programs at the Child Development & Student Research Center at Hume House, from the McFeely-Rogers Scholarship (an endowed fund established in 1996 for aspiring music students) to the Fred Rogers Family Series of the Winter Park Bach Festival, from his portrait in the Fred Rogers Lobby of Keene Hall to the handmade cardigan sweater and his autographed sneakers in the College Archives, Fred Rogers' enduring legacy has continually been a great inspiration for our community of learners at Rollins College.
The oil portrait by Don Sondag in the Tiedtke Concert Hall, in which Fred Rogers wears a royal blue Rollins tie
Items in the Rollins Digital Archives Related to Fred Rogers:
Rollins News Stories:
Films, Videos, and Online Recordings:
New Biographies about Fred Rogers:
Exactly as You Are: The Life and Faith of Mister Rogers, by Shea Tuttle (Grand Rapids, Michigan: Eerdmans, 2019). Fred Rogers was a deeply spiritual person. Focusing on his spiritual neighborhood, Tuttle examines his life, the people and places that made him who he was, and his work through Mister Rogers' Neighborhood (PN1992.4 R56 T88 2019).
The Good Neighbor: The Life and Work of Fred Rogers, by Maxwell King (New York: Harry N. Abrams, 2018). The first comprehensive biography, organized into five parts, which traces the life and work of Fred Rogers, who "never considered myself a TV star. I always thought I was a neighbor who just came in for a visit." (PN1992.4 R56 K56 2018).
Recent Essays about Fred Rogers and the Movie:
News Stories about Joanne Rogers
[1] Tomokan (Winter Park, Florida: Rollins College, 1951), 69. https://archive.org/details/tomokan1951roll/page/68.
[2] Joanne Rogers, "Foreword," in The World According to Mister Rogers, by Fred Rogers (New York: Hyperion, 2003), 2.
[3] "Class of 1951 Award Winners," Rollins Digital Collections, https://archives.rollins.edu/digital/collection/archives/id/230/rec/16.
[4] "Campus Keyholers," Rollins Sandspur, February 3, 1949, 3.
[5] "Mystery Man?" Rollins Sandspur, November 2, 1950, 5.
[6] Gerard Walker, "Annie Russell Success," Rollins Sandspur, December 7, 1950, 7.
[7]" Alpha Phi Lambda…" Tomokan (Winter Park, Florida: Rollins College, 1951), 196-197. https://archive.org/details/tomokan1951roll/page/196.
[8] Joanne Rogers, "Foreword," 3.
[9] "Race Relations," Tomokan (Winter Park, Florida: Rollins College, 1951), 132. https://archive.org/details/tomokan1951roll/page/132.
[10] Fred Rogers, "Report for 1950-51," 150E Alumni Files, Archives and Special Collections, Rollins College, Winter Park, Florida. https://archives.rollins.edu/digital/collection/archives/id/623/rec/9.
[11] Ibid.
[12] Bobby Davis, "Farewell to Our Favorite Neighbor," Rollins360, February 27, 2013. https://360.rollins.edu/people/farewell-to-our-favorite-neighbor.
[13] Fred Rogers, "An Alumnus Speaks: Misterogers' Neighborhood," Rollins Alumni Record, December 1968, 5. https://scholarship.rollins.edu/cgi/viewcontent.cgi?article=1154&context=magazine.
[14] Ibid.
[15] Ibid., 4.
[16] 150E Alumni Files, Archives and Special Collections, Rollins College, Winter Park, Florida.
[17] "Citation for Fred Rogers," 43A Honorary Degrees, Archives and Special Collections, Rollins College, Winter Park, Florida.
[18] Karen Pankowski, "Mr. Rogers Returns to Old Neighborhood," Orlando Sentinel, March 9, 1991, A1 & 7.
[19] Ibid.
[20] Fred Rogers, "Neighbors in the Wings," 150E Alumni Files, Archives and Special Collections, Rollins College, Winter Park, Florida.
[21] Ibid.
[22] Ibid.
[23] Ibid.
[24] Audrey St. Clair, "Rollins Walking Tour Celebrates Mister Rogers," Rollins360, February 20, 2018. https://360.rollins.edu/arts-and-culture/rollins-walking-tour-celebrates-mister-rogers.