by Prof. Wenxian Zhang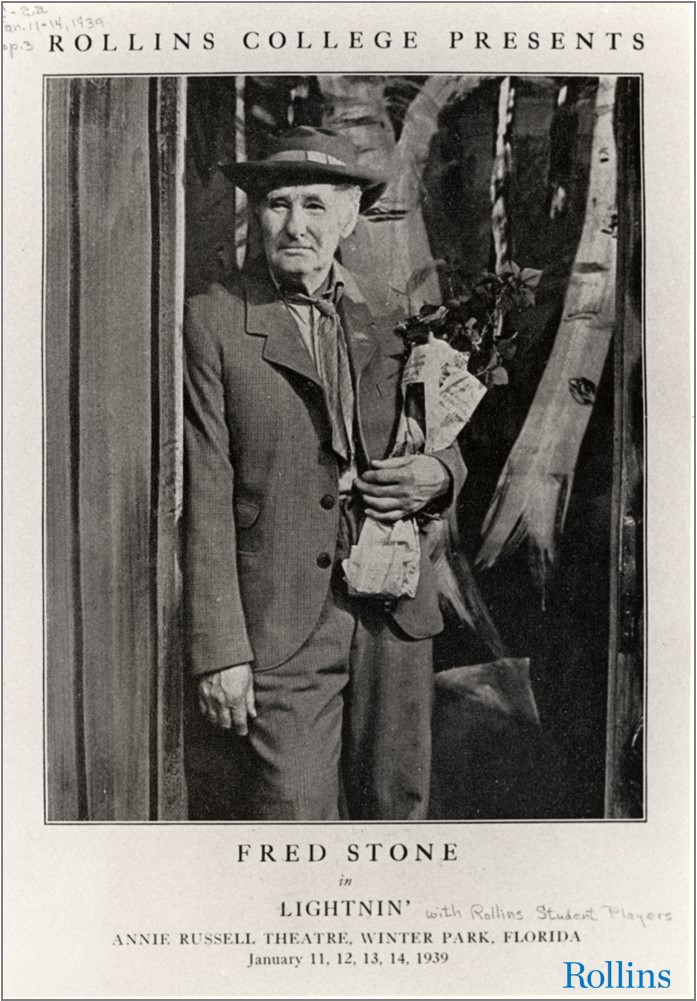 Fred Stone directed and starred in the Rollins College production of Lightnin', the proceeds of which helped build the Fred Stone Laboratory Theatre.
Fred Andrew Stone '29H (August 19, 1873 – March 6, 1959) was an American entertainer, Broadway actor, and Hollywood movie star in the early twentieth century. His career spanned over 60 years, during which he performed as an acrobat, dancer, singer, actor, and comedian. After his death in 1959, The New York Times noted that he was "almost alone among the popular comedians of his day as the 'wholesome' type" and unique in his appeal to both children and adults.[1] However, some of his early work reflected racial stereotypes that do not represent the views of Rollins College or the College Archives.
In 1901, Stone debuted his Broadway career with The Girl from Up There, and in the next year, he had his breakout role playing the Scarecrow in the stage extravaganza The Wizard of Oz, with David C. Montgomery as the Tin Woodman. Other notable Broadway shows that Stone appeared in included The Red Mill (1906), The Old Town (1910), The Lady of the Slipper (1912), Chin-Chin (1914), Jack O'Lantern (1917), Tip Top (1920), Stepping Stones (1923), Criss, Cross (1926), Three Cheers (1928), Ripples (1930), Smiling Faces (1932), Jayhawker (1934), You Can't Take It With You (1936 and 1945), and Lightnin' (1938). An accomplished stage artist, his performances were well received. According to Vanity Affair in 1917: "Fred Stone is unique. In a profession where the man who can dance can't sing and the man who can sing can't act, he stands alone as one who can do everything."[2]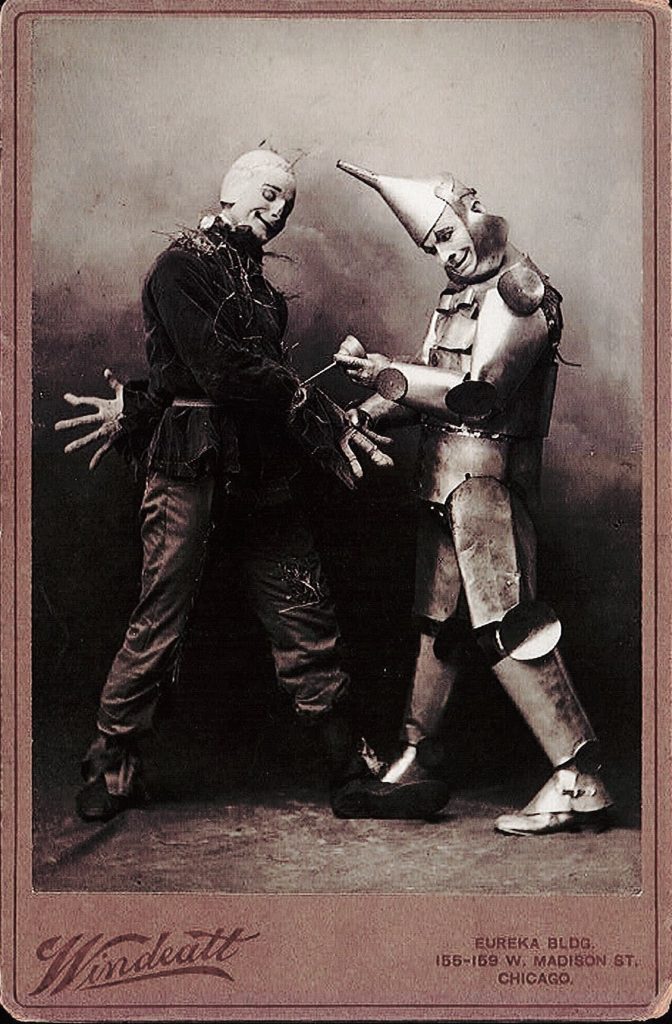 Fred Stone '29H (left) and Dave Montgomery, as the Scarecrow and the Tin Man in The Wizard of Oz, 1902. This was the first stage production of the play, which premiered in Chicago and later opened on Broadway.
Stone's feature film career began in comedy Westerns. He first appeared in Destiny in 1915, and his last movie was The Westerner in 1940. Altogether, Stone starred in nineteen feature films, which earned him a star on the Hollywood Walk of Fame. Stone met his future wife, singer and actress Allene Crater, on the set of The Wizard of Oz. She later also appeared with Stone in Jack O'Lantern and four other Broadway productions. Allene was the sister of Edith Greta Crater, wife of Rex Beach '97 '27H, a popular American novelist and playwright, whose many novels were successfully adapted into stage plays and Hollywood films. Through his brother-in-law, Stone established a connection with Rollins College.
In 1927, Rex Beach (left) returned to Rollins, where he received an honorary degree of Doctor of Literature and his B.S., which he did not finish with the class of 1897. Fred Stone, brother-in-law to Rex Beach, is at the right.
To honor his career accomplishments in the performing arts, Rollins awarded an honorary Doctor of Humanities degree to Fred Stone in 1929. While in Winter Park, Stone also directed and starred in the campus production of Lightnin', and its proceeds helped build the Fred Stone Laboratory Theatre. The small wooden building, which stood near the Annie Russell Theatre for several decades until its demolition due to structural concerns, was used primarily as a performance venue for smaller experimental productions as well as student-directed and -choreographed works. At Rollins, Stone also appeared in the famed Animated Magazine multiple times, giving readings and stage performances such as "In Person" (1939), "Sketch" (1946), and "A Few Minutes with Mark Twain" (1947).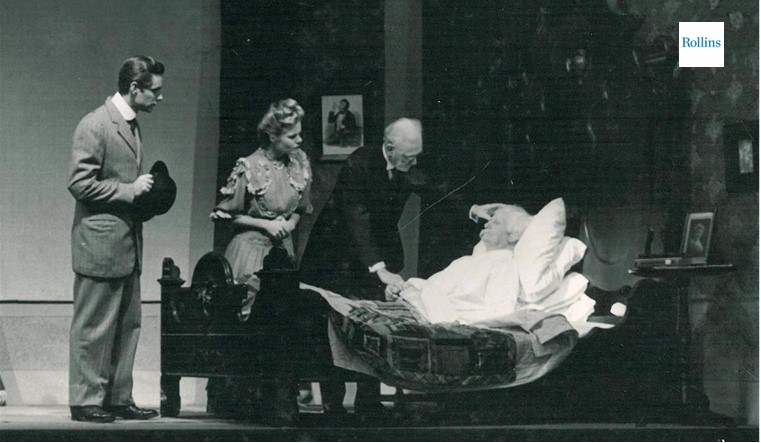 Fred Stone portrays Mark Twain at the Annie Russell Theatre, in the first production of Harold M. Sherman's "Mark Twain." The play was described as the "highlight of the entire dramatic season" in the 1947 Tomokan yearbook.
Stone and Crater had three daughters: Dorothy, Paula, and Carol. Stone played in Broadway productions at least once with each of his three daughters. Born in Brooklyn, New York, Dorothy Stone (June 3, 1905 – September 24, 1974, a/k/a Dorothy B. Stone and Dorothy Stone Collins) was an actor, dancer, and singer in theater and motion pictures. Dorothy went into show business at a young age and was known as the "Queen of Chin-Chin Ranch." Her Broadway debut was in 1923 in Jerome Kern's Stepping Stones with her father, Fred, and was followed by Criss, Cross (1926) and Three Cheers (1928). In 1930, Dorothy appeared on the Broadway stage with both her parents and sister, Paula, in Ripples. In 1931, she married her dancing partner, Charles Collins, in London. The following year, Fred, Dorothy, and Paula teamed up in Smiling Faces. Dorothy also appeared in two Broadway musicals with her husband, Charles Collins: Sea Legs (1937) and The Red Mill (1945). She performed together with her father and husband in You Can't Take It with You (1945).
Fred Stone standing in front of his daughter Paula, son-in-law Charles Collins, and daughter Dorothy in Boston, 1933
Stone's second daughter, Paula Stone (January 20, 1912 – December 23, 1997), was also an accomplished theater and motion picture actress, known for her stage, film, and television performances as well as radio broadcasting. Stone's youngest daughter, Carol Montgomery Stone (February 1, 1915 – June 10, 2011), was another actor who played Big Nose Kate in ten episodes of the 1957–58 ABC Western television series The Life and Legend of Wyatt Earp. Dorothy's husband, Charles Clyde Collins (January 7, 1904 –June 26, 1999), was also an American singer and actor known for his work in musical comedy, including Broadway, films, and television series.
In 1957, when his wife passed away, Fred Stone became ill and blind and was hospitalized. He died on March 6, 1959, at his home in North Hollywood, California, and was buried at Forest Lawn Memorial Park (Hollywood Hills). On September 24, 1974, Dorothy Stone died at her home in Montecito, California, at the age of 69. Twenty-five years later, Charles Collins also passed away in Montecito, California.
The Betty M. Mitchell Collection of Fred Stone Theatrical Materials was donated to Rollins College Archives by Ms. Joyce Mitchell in the summer of 2020. Ms. Mitchell inherited the collection from her mother, Betty M. Mitchell, whose friend, Katherine G. Garvin, was a neighbor of Charles Collins in Montecito, CA. Upon the death of Charles Collins, when his longtime companion, Katherine Garvin, decided to throw away the materials collected by the Stone family and Mr. Collins, Betty M. Mitchell stepped in to save the materials in honor of Fred and Dorothy Stone, Charles Collins, and other notable entertainers in the early twentieth century.
The Betty M. Mitchell Collection includes four boxes of theatrical materials, plus a few bound volumes of sheet music used by Dorothy Stone and Charles Collins in various musicals and plays. The gift also contains a small assortment of items from Rex Beach, Charles's friend of many years, but the core of the collection consists of some critical early Broadway ephemera, including: multiple pictures of Fred and Dorothy Stone, Charles Collins, photographs signed by famed entertainers such as Will Rogers and Alicia Alanova, photographic negatives, playbills, scrapbooks, newspaper articles, and magazines. By illuminating their Broadway and other theatrical accomplishments, this collection provides a better understanding of the importance of Fred Stone, his daughter Dorothy, and her husband, Charles, in the history of the American entertainment industry of the early twentieth century.
This collection is divided into the following five series: News Clippings, Playbills, Scripts & Correspondence; Rex Beach Materials: Sheet Music; Photographs; and Books & Scrapbooks. It was fully arranged and described in Fall 2020 with assistance of archives student assistant Taylor Ingrassia and is now open for public research without any restrictions. For additional information about this collection and visiting Rollins College Archives, please contact us at archives@rollins.edu or 407-646-2421.
Fred Stone and some of the cast of Lightnin' from 1939. From left to right: Helen Bailey, Alice Elliot, Caroline Sandlin, Fred Stone, Victoria Morgan, Deedee Hoenig, and Virginia Kingsbury. Photograph reads: "For Carolyne who played Mother Jones Great. I say so. Fred Stone."
---
[1] "Fred Stone, Actor, Dead at 85; Won Fame in 'The Wizard of Oz': Creator of Scarecrow Role in 1903 Was Top Comedian — Played in 'Chin Chin'." New York Times, March 7, 1959: 1.
[2] P. G. Wodehouse, "Fred Stone and a Few Others: Jack O'Lantern and Other Dramatic Successes—and Failures." Vanity Fair, December 1917.
---