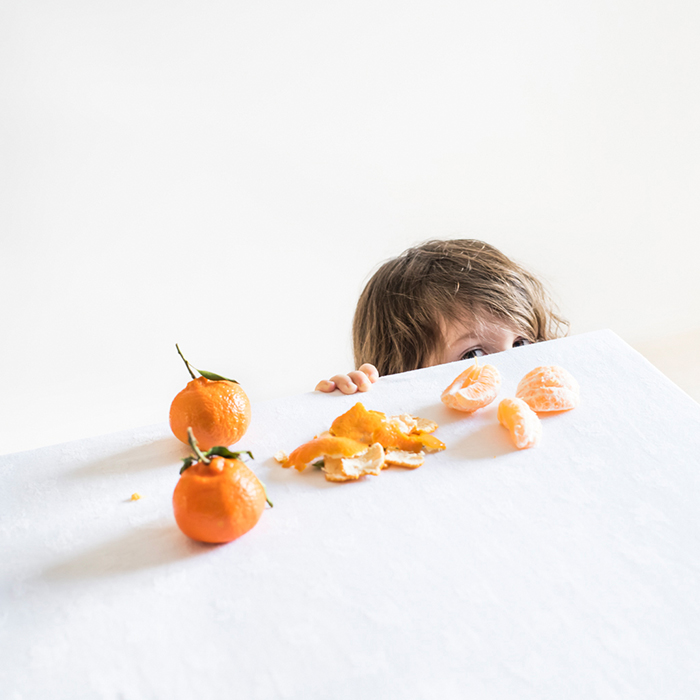 (British, b. 1973), Scout and the Clementines, Rockport Maine, 2015, Photograph on aluminum, The Alfond Collection of Contemporary Art at Rollins College, Gift of Barbara '68 and Theodore '68 Alfond. 2018.1.18 © Cig Harvey
Surrounded by a pristine bright white interior, a little girl peers sweetly over the edge of the table, the vivid orange clementines spread across the surface slightly disrupting her outward gaze towards the viewer. The scene, simultaneously still and fleeting, features the artist's daughter Scout. It is one among a few photographs from Harvey's series You an Orchestra You a Bomb in which Scout appears.
Cig Harvey describes that the series examines her relationship with life itself, and it began after a critical moment in her life. Harvey was in a car accident, and though physically unharmed, she did not speak for six weeks after the event. She was overwhelmed with thoughts of what could have happened if her daughter had been in the car with her. The idea that anyone's life can change drastically in an instant altered Harvey's perspective significantly, especially with her role as a mother. She noted:
"I became a better photographer when I became a mother, and by better, I mean the work got more complicated and less decorative, because my world became more complicated. The world became more beautiful, and it also became more terrifying."
These extremes are illustrated in the title of the series You an Orchestra You a Bomb, meaning there are beautiful components that make an orchestra, and terrible things that make a bomb. Her photographs explore the in-betweens of the terrifying and beautiful, and particularly consider the magic in daily life seen from Scout's vantage point.
In recent times, I've looked at this work with refreshed appreciation and it has encouraged me to find the magic in the everyday too.
Elizabeth Coulter
Associate Curator of Education
See Cig Harvey's work on our Collection page.