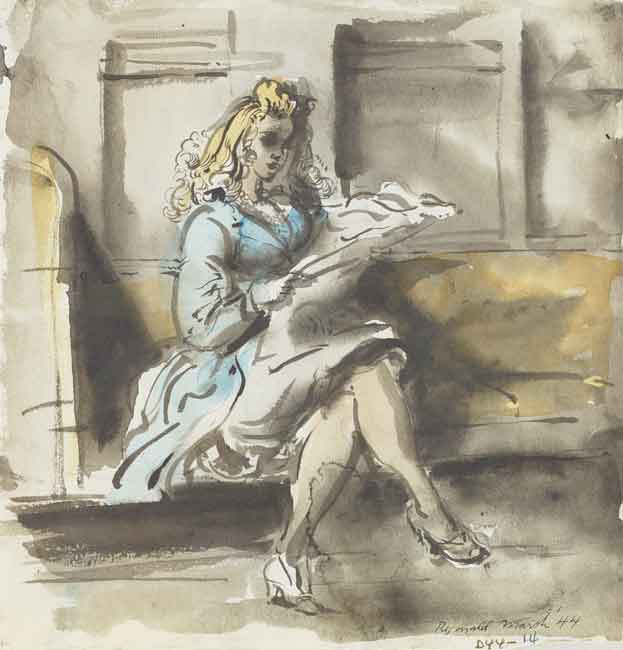 Reginald Marsh
(American, born in Paris, France, 1898–1954), A Young Woman Reading on the Subway, 1944, Watercolor and ink on paper, 7 1/2 x 7 1/4 in. Purchased with the Friends and Partners of the Cornell Acquisition Fun, in honor of Joan Wavell, former director of the Cornell Fine Arts Museum,1988.4. © Reginald Marsh/Artists Rights Society (ARS), New York NY
I recently read Jennifer Egan's historical novel Manhattan Beach, a noir thriller that transported me to New York during World War II. The main character, Anna Kerrigan, comes of age at a time when the country grappled with war abroad and its effects at home. Resilient and determined, Anna works at the Brooklyn Naval Yard as a diver repairing ships. The rich descriptions of the naval yard, the city streets, and the dark, smoky nightclubs, paint a vivid picture of the context in which she lived and worked. Newspapers reported on the war in Europe, and she learned of individuals' experiences through letters and friends' accounts. While reading, I thought about how young women experienced the city at this historical moment.
The story of Anna reminded me of Reginald Marsh's A Young Woman Reading on the Subway, a small watercolor in the museum's collection. Well-known for his depictions of the urban environment in New York, Marsh's paintings and illustrations capture scenes of common, everyday people in clubs, subways, and dance halls. In this image, a young woman is seen reading a newspaper on the subway. Oblivious to the gaze of the spectator, she appears focused on what she is reading, perhaps the latest reports about the war. The figure is certainly the center of attention; Marsh accentuates her dress, high heels, and bright blonde curls; she is young and attractive. But the image also captures a snapshot in the daily routines of many young women at the time who became crucial pillars in the labor force while men were abroad. As we celebrate the 100-year anniversary of women's suffrage, I think of young women then and now, working to improve their lives, contribute to the betterment of our society and our economy, and on the importance of access to education and opportunity for all.
Gisela Carbonell, Ph.D.
Curator
View this work by Reginald Marsh on our Collection page.