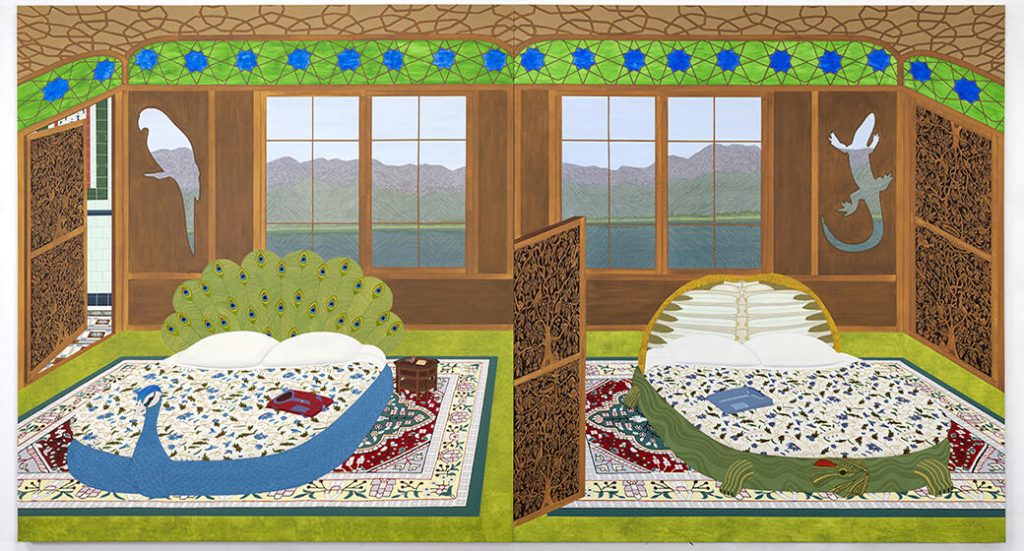 Becky Suss
(American, b. 1980), Houseboat on Dull Lake in the Valley of K, 2019, Oil on canvas, 84 x 144 in. The Alfond Collection of Contemporary Art at Rollins College, Gift of Barbara '68 and Theodore '68 Alfond, 2019.2.22. Image courtesy of the artist and Jack Shainman Gallery, New York
When I first learned of this new acquisition by Becky Suss in The Alfond Collection of Contemporary Art, I was immediately captivated by the intricate interior—from the whimsical bedframes, elaborate carpets, and animal cut-out windows to the glimpse of patterned tile, ornate woodworking, and detailed Kashmiri khatamband ceiling. As a Decorative Arts historian, I have always been drawn to domestic interiors and the objects that adorn them, and I am particularly interested in how those spaces create a feeling or ignite memories. I value the way Becky Suss's paintings invite viewers to explore new spaces and find meaning in the way the everyday spaces shape us.
Becky Suss's domestic interiors render familiar settings constructed from the artist's memories and imagination. She started this body of work by reimagining her grandparents' mid-century modern house on Long Island. The home, demolished after their passing, became memorialized in her paintings through her depiction of the rooms and the objects she inherited from them. Suss continued to build spaces inspired by her experiences, including her therapist's office, great aunt and uncle's house, and parents' friends' apartments. She has expanded her settings to incorporate her imagined spaces of children's chapter books.
As she builds her child's library and reflects on her own childhood, she recalls picturing the places in the stories her father read to her. This painting explores Salman Rushdie's Haroun and the Sea of Stories. Suss identifies this book as "a magical-feeling book that described beautiful faraway places," and her painting combines both her memories of the book and her father's recounted travels to Kashmir in the 1960's. She depicts here the houseboat where a father and son stayed on Dal Lake in the Valley of K. They each had wooden carved bedframes, one in the shape of a peacock and the other of a turtle, in neighbouring bedrooms.
These spaces, whether inspired by life or books, hold personal significance to the artist and were integral in her development from childhood to adulthood. By creating paintings of domestic interiors, Becky Suss generates a level of familiarity for all ages and welcomes viewers to discover them and draw personal connections of their own. Ultimately, spaces, objects, stories, and memories of the everyday are critical in modelling the way we see the world and form our ways of thinking and understanding. This work has not only introduced me to new spaces, but has also inspired me to revisit and treasure the places that have influenced me.
Elizabeth Coulter
Former Associate Curator of Education
View this work by Becky Suss on our Collection page.