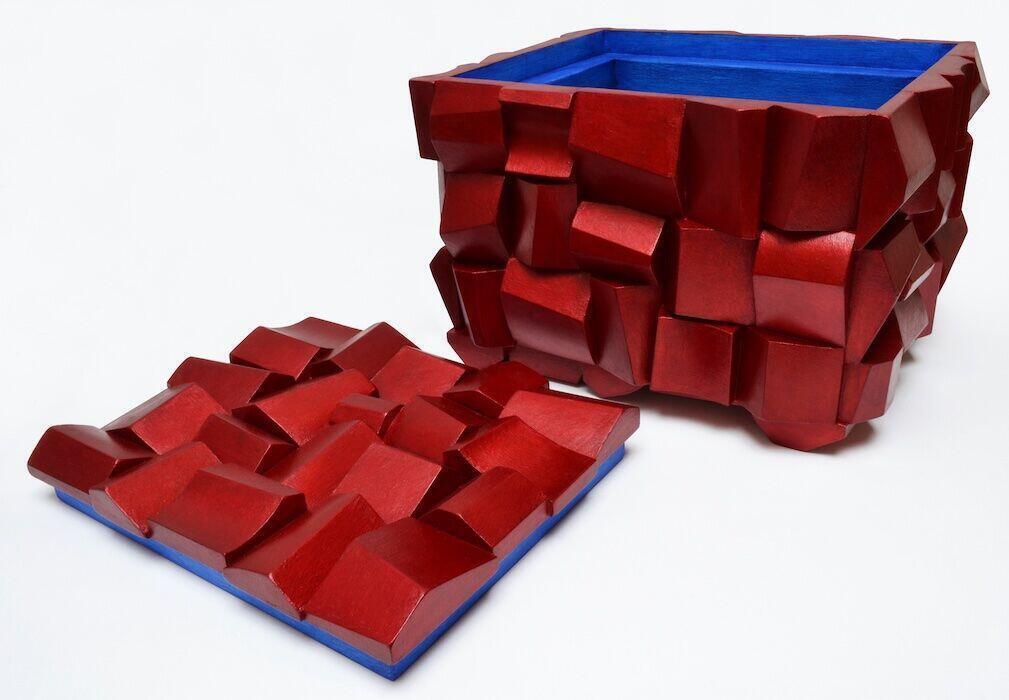 Tobi Kahn
(American, b. 1952), Patuach Sagur Patuach, 2012, acrylic on wood, 9 3/4 x 12 3/8 x 8 3/4 in., A Gift from the Acorn Foundation, funded by Barbara and Theodore Alfond, in honor of Bruce A. Beal Director Ena Heller. 2015.8.1 © Tobi Kahn
In his 2012 PATUACH SAGUR PATUACH—meaning OPEN CLOSED OPEN in Hebrew—American sculptor and painter Tobi Kahn recreates a traditional Tashlikh box. The Tashlikh ceremony takes place on Rosh Hashanah, or the Jewish New Year. It typically includes recitation of the final verses of Micah from the book of the Twelve Minor Prophets in the Hebrew Bible: "He shall return and grant us compassion; He shall hide our iniquities, and You shall cast into the depths of the sea all their sins" (Mic. 7:12). During the ceremony, Jews travel to rivers or streams and throw bread into the water, representing sins of the previous year. The version of the Tashlikh historically performed by Babylonian Jews consisted of releasing symbolic, sin-filled containers into waterways, such as the container constructed by Kahn in this work.
In a 2002 interview at the Jewish Museum, Kahn described the time-consuming surface treatment of his sculptural wooden creations, mentioning, "There are many layers in all my works." His objects are cloaked in multiple coats of opaque acrylic paint and finished with at least six washes of translucent pigment. Additionally, in many of Kahn's sculptural works, alternating rounded and pointed forms—such as those witnessed on the surface of PATUACH SAGUR PATUACH—reappear. In the same interview, Kahn discussed the resemblance of his modular components to the buildings of cities and towns, reinforcing the community-driven nature of his body of work. Additionally, the undulating exterior of PATUACH SAGUR PATUACH can be interpreted to represent the waves and swells of bodies of water. By referencing the Tashlikh, Kahn draws on a centuries-long tradition uniting Jewish people worldwide in an annual ritual of repentance and meditation.
Isaac Gorres
Former Fred Hicks Intern
See this work by Tobi Kahn on our Collection page.