Marcus Jansen
(American, b. 1968), Plot #2, 2018, oil, enamels, mixed media on canvas, 60 x 48
in. Given by Barbara and Theodore Alfond in honor of Anca Giurescu, Ena Giurescu
Heller, and Eliane Heller – three generations of courageous and passionate
communicators. 2020.35. © Marcus Antonius Jansen / Artists Rights Society (ARS), New
York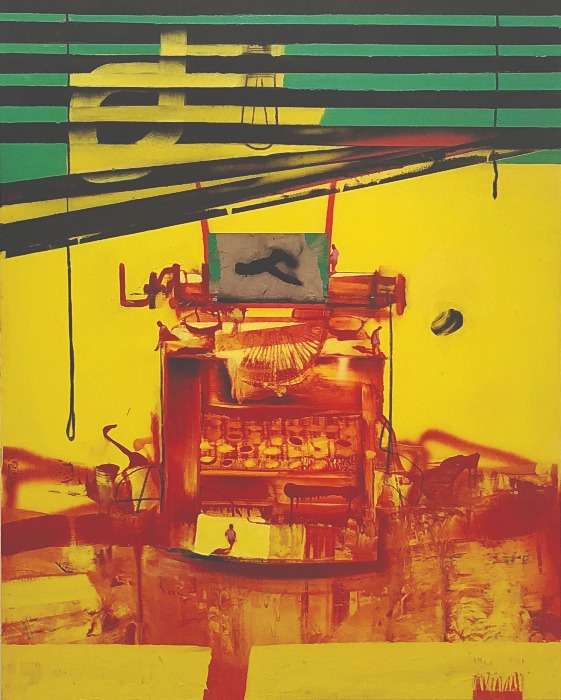 American artist, Marcus Jansen, (b. 1968, New York) embodies a multi-lingual approach to art
making. His paintings, often monumental in scale, reference many visual vocabularies – from
narrative history painting to graffiti and street art. Richly layered in content and form, Jansen
leverages his art practice as a method to synthesize and express the traumatic experiences of
both civilian life and military experience.
Multiple conflicts and tours of duty, Jansen's paintings reveal the complexing and intensity of
his personal history. His paintings explore how the spaciousness of one's subconscious can be
invaded by cultural signifiers both familiar and strange, a highly caffeinated search and rescue
of memory, and hypervigilance resulting from an awareness of constant surveillance – all of
which result in a disorienting sense of vulnerability.
The work in the Alfond Collection of Contemporary Art, Plot #2, 2018, is resonant and
haunting in its image and subject. A brick red typewriter, that feels partially stenciled onto a
mustard yellow ground, is both the subject of the painting, and the set for another subtle
narrative landscape that unfolds within the picture plane. Above the typewriter hangs a
broken set of blinds, with the sketch of a hanging light bulb in the background. The offset
blinds and bulb signify a space that has been violated, or that could be at any moment; and
the image becomes more unsettling as one observes the minute figure that often populates
Jansen's paintings, as he traverses the space created in the lower left corner of the typewriter.
The threatening mood of the painting alludes to histories of surveillance and power, and in a
more reductive image, contains themes that are the foundation for Jansen's practice.
There are multiple approaches to unpacking this work: the formal residue of graffiti, a
reflection on the color palette and color theory, the compositional architecture of the image,
the surreal qualities of the figure in a scale that is ever-shifting. This work will be poignant
across many disciplines from psychology to history, as the artist so generously grants access
to the most intimate, vulnerable and revealing aspects of his lived experience as an American,
an ex-pat, a soldier and a survivor of Post-Traumatic Stress disorder.
Abigail Ross Goodman
Consulting Curator of Contemporary Art
See this work by Marcus Jansen on our Collection page.