James McDougal Hart
(American, 1828-1901), Summer Landscape, 1857, Oil on canvas, 12 1/4 x 8 1/4 in. Purchased with funds from the Michel Roux Acquisitions Fund 2007.7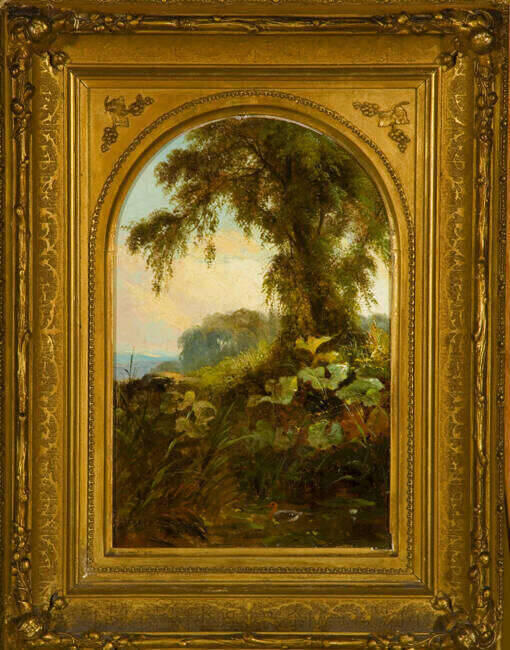 (This was originally published in Spring of 2021) Like Dr. Grant Hamming describes in his entry earlier this month, I also found myself inspired by the changing seasons when choosing James McDougal Hart's Summer Landscape (1857). Motivated by a desire to recognize Rollins students' perseverance though a difficult semester without the usual balm of Spring Break, I was drawn to Hart's Landscape because of its representation of a perfect summer day that is just out of reach, therefore mirroring the students' current feelings. With its ornate, arched gold frame, sparkling emerald greenery, and hazy golden sky, Hart's work reads like a portal described in a fairytale, impossibly transporting its viewers to that perfect day.
Hart achieves this effect by masterfully blending the naturalist and romantic movements of his day, namely the Hudson River and Barbizon Schools. His distinctive combination of meticulous attention to detail based on direct observation and creation of an idyllic atmosphere assured his success as a landscape artist alongside his older brother, William M. Hart, during their lifetimes. It bears mentioning that the brothers are thought to have trained their youngest sister, Julie Hart Beers, who is now considered one of the few commercially successful professional women landscape artists of the late 1800s.
Hart created Summer Landscape the same year he moved from Albany, New York to New York City to reunite with his siblings, who had moved there in 1853 and 1856. New York opened a new and profitable market for Hart, exposing his works to the newly rich Civil War Era titans flooding the city. While in New York City, he married portrait artist and illustrator Mary Theresa Gorsuch Hart, and had two daughters who later became artists in their own right. Hart and his daughters Letitia Bonnet Hart and Mary Theresa Hart even attended the Brooklyn Academy of Design and the National Academy of Design together for a time before sharing adjoining studio spaces. After five decades of success, Hart passed in 1901 and was interred in the Green-Wood Cemetery in Brooklyn, New York. Though today Hart's name does not carry the instant recognition of other 19th-century American landscape painters, his decades-long career proves the popularity he enjoyed among his contemporaries, thereby ensuring his work be preserved and appreciated today.
To me, Summer Landscape represents the promise of a perfect summer day and the hope that comes with it. This painting offers the certainty that, although this day remains out of reach, it will eventually come, and reassures the viewer the work is there to provide that glimpse of it until it does.
Molly Fulop
Former RMA Collections Intern
To learn more about this work by James McDougal Hart, visit our Collection page.