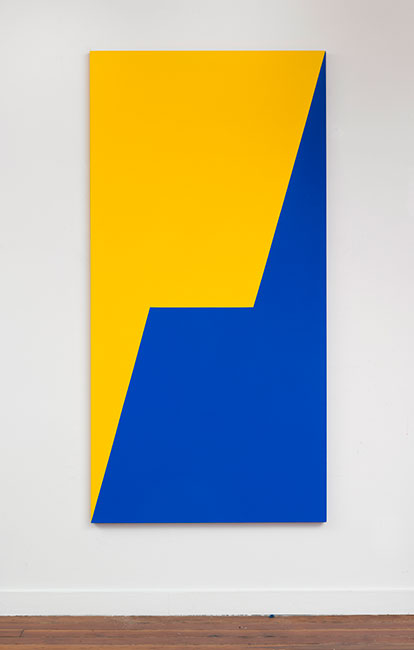 Carmen Herrera (Cuban, 1915-2022), Untitled, 2013, Acrylic on canvas, 72 3/64 x 36 7/32 in. The Alfond Collection of Contemporary Art at Rollins College, Gift of Barbara '68 and Theodore '68 Alfond, 2014.1.32. © Carmen Herrera. Image courtesy of the artist and Lisson Gallery, London, 2014.1.32
This week we celebrate the life and work of a remarkable artist whose creative output is a testament to her rigorous dedication. Carmen Herrera, who recently passed away, was born in Havana, Cuba. At the age of 106, she continued to work in her New York studio almost every day. Herrera's geometric abstract style is characterized by solid colors, straight lines, and a simplicity of form that eschews narrative and symbolism. She studied art and architecture in Cuba, developing at an early age a fascination with the straight line: "There is nothing that I love more than to make a straight line. How can I explain it? It's the beginning of all structures, really." She approached art-making from that perspective, focusing on structure and its component parts. In 1939, the artist moved to New York and later to Paris, where she found a new community of artists with the international group Salon des Réalité Nouvelles. Upon her return to New York in 1954, Herrera encountered an art world still dominated by the Abstract Expressionist male artists and the critics and galleries who championed them. Her steady, disciplined practice continued for almost seventy years, developing an emblematic visual language that elevated line, color, and form over meaning. In her work, the canvas becomes an object that reflects the composition painted on it as well as the space surrounding it; there is an almost architectural approach to the juxtaposition of shapes that convey great dynamism and stability simultaneously. Being a geometric abstractionist female painter from the Caribbean in the 1950s in New York was a challenge for Herrera, who throughout her life, has preferred not to identify as a Latina artist or a Cuban artist, but instead just as an artist. In wanting to make her work and herself non-political, she has made a very strong statement about the place of women in the art world. Unlike her male counterparts, she didn't receive much attention from galleries and museums until the 1990s. In 2016, the Whitney Museum of American Art mounted the first major museum exhibition of Herrera's work in almost three decades Carmen Herrera: Lines of Sight.
At RMA, we are thrilled to celebrate Herrera's life, her tenacity, vision, and art. We are honored to have three important paintings by Herrera in our collection, and currently on view, that show her characteristic geometric, abstract style. To learn more about Herrera's work visit our collections page here.
Gisela Carbonell, Ph.D.
Curator
See this work by Carmen Herrera on our Collection page.