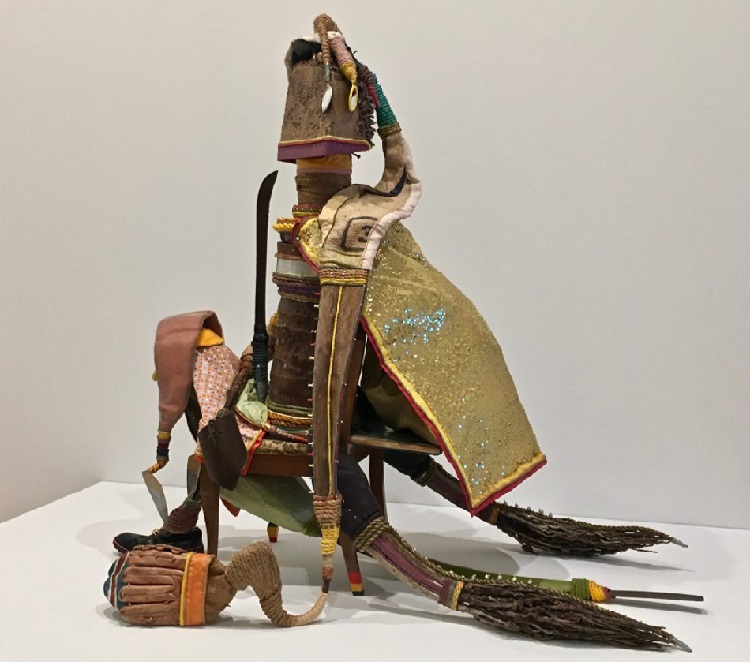 Daniel Lind-Ramos (Puerto Rican, b. 1953), Vencedor: 1797 (Victorius: 1797), 2018-2019, Mixed media, 67 x 70 x 33 in. The Alfond Collection of Contemporary Art at Rollins College, Gift of Barbara '68 and Theodore '68 Alfond. 2020.1.1 ©Daniel Lind-Ramos
The sculpture Vencedor: 1797 was recently on view in the exhibition Multiple Voices/Multiple Stories. This exhibition explores the multiplicity of stories contained in a work of art and this piece by Daniel Lind-Ramos illustrates this notion in a nuanced way. Vencedor: 1797 is many things—a sort of equestrian statue, a physical reminder of a historical event from centuries ago, a celebration of those often overlooked and forgotten. It speaks to personal and universal histories, and it resonates with viewers on many levels. Consisting of a variety of natural and man-made materials (some found, some created or transformed by the artist), the sculpture sits on an elevated platform commanding the space in the museum gallery. It refers to the Battle of San Juan of 1797 when the British attacked the island of Puerto Rico in an attempt to seize it from the Spanish. Black Puerto Ricans had a key role in the organized militias who confronted Sir Abercromby's fleet in strategic points on the north coast of the island. Lind-Ramos' work builds on the history of this event in an assemblage piece that celebrates the victory of those whose names we don't know, and elevates not the colonizers, but the individuals who gave everything to defend their land. Lind-Ramos' use of diverse textures and colors (from coconuts from his hometown in Loíza, Puerto Rico, to sequined fabrics, and rusting work implements) speak to the multiple layers that make up identity, colonialism in the Caribbean, and the parts of history that are not as often told and celebrated.
In his work, Lind-Ramos weaves the personal, local, regional, and global and creates an intricate tapestry of stories that activate the viewers' curiosity inviting us to reflect about our place in the world. His practice is also about discovery and a deeper search for meaning. In a 2020 interview with Arte Fuse Magazine the artist explained "The vital experience that inspires my sculptural assemblages derives from our Afro-Puerto Rican communities and from the African diaspora as a whole. The goal of these works is to honor our ancestral communities with narratives, historical references, and tangible traces of their lifetimes. The idea is to appreciate and express their contribution with specific examples through an inclusive aesthetic that stimulates a range of readings and meanings."
Gisela Carbonell, Ph.D.
Curator
See this work by Daniel Lind-Ramos on our Collection page.