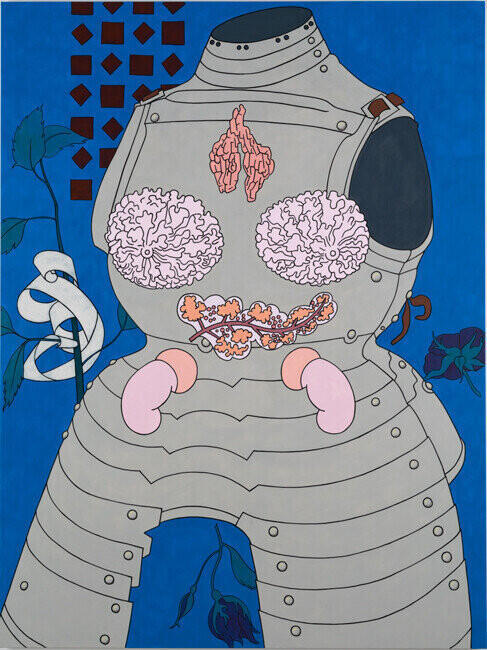 Caitlin Keogh
(American, b. 1982), Renaissance Painting, 2016, Acrylic on canvas, 84 x 63 in., The Alfond Collection of Contemporary Art at Rollins College, Gift of Barbara '68 and Theodore '68 Alfond, 2016.3.15., Image courtesy of the artist and Bortolami, New York.
If ever I were to be inspired to clear out all my living room furniture in service of highlighting a showstopping work of art, it would likely be for one of Caitlin Keogh's paintings. Though historically known for small scale works, in the last few years she has switched to a much large scale approximating 9 feet in height—these she calls mural paintings, of which Renaissance Painting is an example.
Keogh blurs the lines between what is considered fine art in the academic sense and the applied arts. Applied art is aesthetically driven, incorporating design into everyday objects for consumer use with an eye on functionality, for instance fashion design, industrial design, and interior design. Historically, these have taken a back seat to fine art because fine art, which was not meant to be associated with ordinary objects, but rather, to stimulate the mind and senses. Applied arts did not truly rise to public attention until after the popularity of the Art Nouveau and Arts and Crafts movements in the late nineteenth century.
Keogh's appreciation for art began simultaneously with an interest in fabric and sewing techniques. The result is a collection of incredibly detailed paintings of textiles patterns and accessories which plunge full steam into an exploration of the beauty of design and of the process of making and wearing clothing. This interest in fabrics and interiors is reflected in her move towards these larger canvases because she suggests they serve as backdrops rather than as art objects. In this way we see an additional collapse between fine art, the object as art, and art's decorative function.
Her process is very technical in its execution—a result of her experience as a technical illustrator—and draws from techniques used in industrial sign painting. She begins with a sketch that she then enlarges onto the canvas and fills in with the flat color planes seen in this here. If you look closely, within the blue background you can see evidence of her underdrawings—so let that be a motivation to see it in person.
Her work has been described as darkly romantic, which makes sense considering she draws inspiration from the Surrealists and Mannerists, particularly Magritte and Ingres. And honestly, this is the best description to explain the effect her work has on me: romantic and feminine, but unsettling. In Renaissance Painting, Keogh also makes a commentary on the female anatomical form. Several of her work features fragmented and headless women's bodies as subject, not necessarily with armor, though they do often feature organs. The fragmented section could be a torso as we see here but have also focused on legs, breasts, hands, and other areas associated with femininity.
Continuing down that line of thinking, we see here she has highlighted the organs related to the female endocrine system, superimposed on a suit of armor. This raises questions regarding how much protection the organs are receiving and engages viewers in a conversation regarding violence against the female body.
Alexia Lobaina
Associate Curator of Education
See this work by Caitlin Keogh on our Collection page.